UNDERSTANDING SUPPORT GROUPS
This women's Therapy Group is a safe and supportive place to help women tackle self-defeating and irrational thoughts during difficult periods of their lives. It is designed to improve the quality of women's life by both nurturing the self and others in this healing process. Women will grow to be more aware of the importance of self-worth and value relationships with others.
The group's main highlight covers different developmental concerns to help women tackle various types of challenges faced during different transitions of their lives.
GROUP LEADER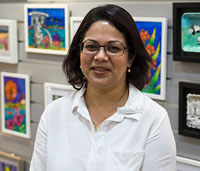 PIYALI CHAKRABARTI
Clinical Psychologist
Piyali is a Singapore Registered Psychologist (SRP) and an Approved Supervisor recognized by the Singapore Psychological Society. She completed her M.Phil in Medical & Social Psychology (specialization in Clinical Psychology). Piyali had previously served as Head of the Department of Psychology at the Cerebral Palsy Alliance Singapore.