Psychologist : Mrs. Piyali Chakrabarti
M.Phil Clinical Psychology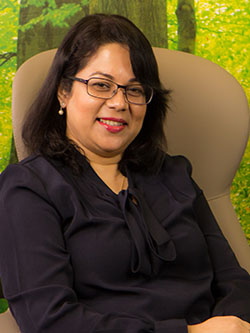 Mrs. Chakrabarti is a Singapore Registered Psychologist (SRP) and an Approved Supervisor recognized by the Singapore Psychological Society. She completed her M.Phil from the renowned Central Institute of Psychiatry (CIP) in India after completing her Masters in Applied Psychology from the University of Calcutta. Besides being a Psychologist at Scott Psychological Centre, Piyali continues to offer her services part-time at the Cerebral Palsy Alliance of Singapore where she had previously served as Head of the Department of Psychology.
Piyali is a Certified Choice Theory Reality Therapist (CTRT) through the William Glasser Institute of Singapore. CTRT is based on the principals of helping people to learn internal control and improve important relationships. As a certified CTRT therapist, she uses the knowledge, skill, and principals of CTRT and Lead-Management as authorized and endorsed by Dr. William Glasser. She is also trained in Cognitive-Behaviour Therapy (CBT) and completed Level 1 and 2 Gottman method Couple Therapy.
Her career in mental health and clinical psychology has given her experience in counseling and therapy across a wide range of institutional settings like hospitals, private practice, special education centers, and schools and across diverse populations. Piyali is multi-lingual and has provided her counseling in English, Bengali, as well as Hindi.
Piyali has a wealth of experience in handling clients from Singapore and abroad, and is keenly aware of the challenges and potential adjustment issues that expatriates and their families may face when settling in Singapore. Her clinical interests include managing anxiety, depression, and a wide range of psychological and behavioral issues that are related to major life-style changes like moving to a new country, smoking cessation, life changes (marriage, parenting concerns etc), and relationship changes for children and adults.