UNDERSTANDING THERAPY GROUPS
This Therapy Group is a safe and supportive place to help participants tackle self-defeating and irrational thoughts during difficult periods of their lives and designed to improve the quality of life by both nurturing their happiness habits for self and others in this healing process.
Participants will grow to be more aware of the importance of self-worth and valuing relationships with others. It is more tailored to focus on a common problem, e.g., social anxiety, managing depression (e.g., dealing with unexpected life events) or coping with stress.
This group will be a combination of educational in nature and process oriented. I will be using cognitive behavioral therapy (CBT) approaches. Its main highlights are how to identify the mind chattering and replacing the chattering with a set of healthy images.
Please refer to the link to understand 'How Effective Is Group Therapy For The Treatment Of Anxiety Disorders?' .
*If you fail to attend 5 sessions, the minimum payment of 5 sessions ($425) will still be charged.
GROUP LEADER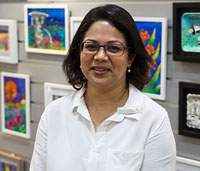 Dr. PIYALI CHAKRABARTI
Clinical Psychologist
Dr. Piyali Chakrabarti is a Singapore Registered Psychologist (SRP) and an Approved Supervisor recognized by the Singapore Psychological Society. She completed her Psy.D in Clinical Psychology, with a specialization in group psychotherapy, from California, USA She is a Certified Choice Theory Reality Therapist (CTRT) through the William Glasser Institute. She is also trained in Cognitive-Behaviour Therapy (CBT). Her work involves the application of behavioural science to predict, identify and comprehend the interactions and reactions of an individual in both personal and group setting. She is committed to work with individuals across different clinical and organizational settings. Piyali is a clinical member of American Group Psychotherapy Association (AGPA) and she is experienced in conducting group psychotherapy to support clients in managing their challenges. She is also currently serving the Chair at Group Psychotherapy Special Interest Group (SIG) through Singapore Psychological Society (SPS).