Psychologist : Dr. Annabelle Chow DPsych
Clinical Psychology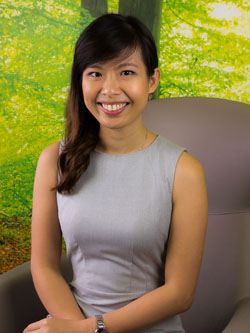 Dr. Annabelle Chow is a clinical psychologist. She holds a Doctor of Psychology (Clinical) and is registered as a Psychologist (Clinical) with the Australian Health Practitioner Regulation Agency (APHRA), the Singapore Psychological Society (SPS), and the Singapore Register of Psychologists (SRP).
Having worked in Australia and in Singapore, Annabelle has clinical experience in general hospitals with a special interest in geriatric issues including dementia, adjustment disorders, and grief and loss. Annabelle also works together with caregivers to the elderly and provides caregiver support. She has experience providing psychotherapy to clients suffering from Personality Disorders. Personality Disorders are conditions where an individual experiences significant difficulty in the way they think, perceive, feel or relate to others. Such conditions typically worsen with stress or depression. Annabelle's other clinical interests include depression, anxiety issues, abuse, and Post Traumatic Stress Disorder (PTSD). Annabelle also conducts intelligence tests (WISC-V) for children who require recommendations pertaining to their educational or psychosocial functioning.
Outside the clinical setting, Annabelle regularly speaks on topics such as coping with stress and suicide, healthy ageing, and managing behaviours in dementia to welfare organisations, community hospitals and eldercare agencies in the community.
Annabelle believes that the needs of each individual are unique and different and this philosophy is reflected in her choice of therapy. She is trained in and selects from a range of therapeutic techniques such as Cognitive Behavioral Therapy (CBT), trauma-focussed CBT, Acceptance and Commitment Therapy (ACT), and Dialectical Behaviour Therapy (DBT) based on each individual's needs. Annabelle provides therapy in English, Mandarin, Teochew and Hokkien.